This page refreshes every 5 Minutes
LIVE VLF RECEIVER LINKS :-
******** VLF STREAMS NOW BACK ONLINE ********
**** MY DIRECT LIVE VLF STREAM (INCASE ABOVE LINKS ARE OFFLINE) ****

**** MY STREAM STATUS FOR ME ONLY ****

There is nothing illegal about receiving these signals as it is the Earth's own natural radio sounds.
VLF SOUND SAMPLES :-
**** NEW VLF SOUND SAMPLE 07/05/2010 ****
The above sound sample is 8 Minutes and 55 Seconds worth of none stop whistlers, recorded 07/05/2010 from 00:54 UTC here in Sheffield, UK, the file is 8.16 Mbytes in size.
I scoured through 6 Hours of audio and edited out the best whistlers in the above file, hope you enjoy it.

OTHER STUFF :-
*** NEW ***
*******************************************

UPDATED 01/08/2009 - SCHEMATIC OF MY VLF RECEIVER
Sheffield on the Internet - Portal and Information Source for Sheffield, South Yorkshire and the Peak District for business, tourists, visitors and expats.
This image provided by Aurorawatch, York, click on the image to visit their homepage :-
This is an image from a magnetometer in York, this shows us when the Earth's magnetic shield is disrupted by solar flares from the Sun, after activity of this kind usually then we can expect to hear those strange sounds on our vlf receivers.
Lightning detector in the UK, click on the picture for the provider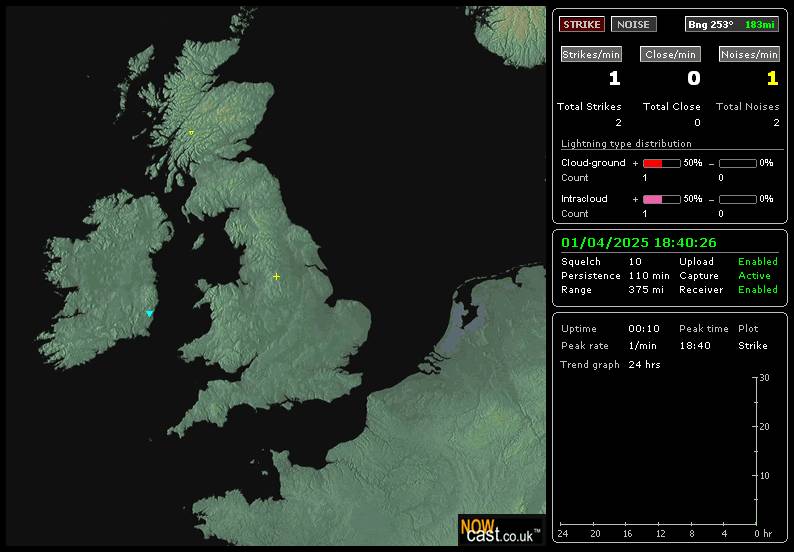 VLF (Very Low Frequency), is a receiver for picking up Earth's natural radio, frequencies in question range from 0hz - 22khz.
What you receive are things called whistlers, sferics, tweaks, dawn chorus.
A search on the web for VLF will give you lots of details, along with how to build a receiver for yourself.
What you will hear most of the time are what's called sferics, that's the sound of lightning strikes 1000's of them happening around the World.
When certain conditions are right, you would then hopefully hear what's called whistlers, really strange when you hear them for the first time, also dawn chorus which sounds like birds twittering in the morning.
If you have any questions feel free to email me at marky26uk@gmail.com
Stream provided by:-